Gina L. Glockner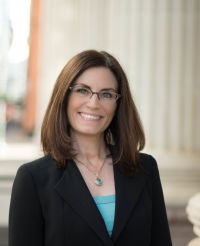 Attorney
Office: Denver
Email: gglockner@childsmccune.com
Telephone: (303) 296-7300
Gina L. Glockner has over 14 years of experience in complex civil litigation representing health care professionals, businesses, and large corporate entities in litigation, business and administrative licensing matters. She defends her clients in all aspects of litigation and mediation where she has represented physicians, mid-level providers, hospitals, health maintenance organizations, behavioral health specialists and other health care providers in a variety of medical specialties including emergency medicine, clinical laboratory operations, anesthesiology, dentistry, internal medicine, urology, plastic surgery, pediatrics, general surgery, cardiology and radiology. Over the course of her career, Ms. Glockner has also been involved in defending personal injury, wrongful death, product liability and construction defect cases. She has represented corporate clients, including large hotel and restaurant chains, as well as elevator manufacturers. Most of Ms. Glockner's work has involved claims of catastrophic injuries and losses, and she is passionate about developing strategies to address these types of damages.
In addition to her significant litigation experience, Ms. Glockner has represented physicians, physician assistants, nurses, dentists and dental hygienists in administrative investigations and licensing matters before the Colorado Department of Regulatory Agencies. She also advises clients on navigating compliance and regulatory issues.
As a dedicated leader in the community, Ms. Glockner is passionate about issues relating to diversity and gender equity. She currently serves on the Board of the Colorado Women's Bar Association, an organization with more than 1700 members, where she Co-Chairs the Public Policy Committee and advocates for legislative policies that support women and children. Ms. Glockner has been selected for a 2-year term commencing August 2018 to represent Colorado as a Board member of the National Conference of Women's Bar Associations. She is also actively involved in pro bono work in the local community and an active supporter of Metro Caring, Girls, Inc. of Metro Denver, and Legal Nights at Centro San Juan Diego.
Ms. Glockner is a proud Minnesota native. She received her undergraduate degrees in English and French from Dickinson College in Pennsylvania and lived abroad for a year in Belgium and a year in France. Prior to going to law school, Ms. Glockner organized and executed large-scale million-dollar fundraising events for non-profit organizations in New York City.
Ms. Glockner is admitted to practice in Colorado, Connecticut and New York.
Memberships
Board Member, National Conference of Women's Bar Associations (commencing Aug. 2018)
Board Member, Colorado Women's Bar Association
Co-Chair of Public Policy Committee Colorado Women's Bar Association
Past Co-Chair of Legal Services Committee, Colorado Women's Bar Association
Member, Denver Bar Association
Member, Colorado Bar Association
Member, American Bar Association
Education
J.D., 2004 Brooklyn Law School, Brooklyn, NY
Bar Admissions
Colorado
Connecticut
New York