Karin Williamson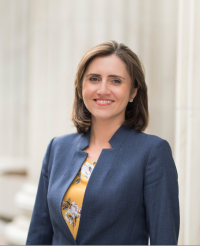 Attorney
Office: Denver
Email: kwilliamson@childsmccune.com
Telephone: (303) 296-7300
Karin represents medical professionals in malpractice and licensing board matters. Karin is a seasoned litigator with a level of experience and mastery of the courtroom that few lawyers possess. Karin's high rate of success for her clients has earned her a reputation as a fierce and tenacious advocate, and is reflected by the accolades she has received.
Karin has substantial litigation experience, unparalleled trial experience, and Karin has gained a vast depth of knowledge along the way. Before joining Childs McCune in 2017, Karin served the Denver community as a Colorado State Public Defender for nearly a decade. She has defended the rights of clients in over three thousand cases. Karin has served as lead counsel for a vast range of misdemeanors and felonies, including homicides and specializing in sexual assaults. Karin has selected nearly sixty juries, represented juveniles in bench trials, and written several appeals – one resulting in a published Colorado Supreme Court opinion. Given the complexities of her many cases, Karin has extensive knowledge in various scientific fields and has interviewed numerous physicians, nurses, and DNA analysts in preparation for trial.
In addition to her malpractice and licensing practice areas, based upon her extensive background as a Colorado State Public Defender, Karin also defends criminal matters. These include the defense of white collar, assault, property crimes, domestic violence, sexual assault, child abuse, and homicide allegations.
Beyond possessing experience and knowledge, Karin has a unique, artful courtroom style that has resulted in much success. She can skillfully cross-examine medical professionals and scientists to the benefit of her clients. Karin has an exceptional ability of creating rapport with the opposition's experts and using their expertise to further her clients' goals. Importantly, Karin prides herself on taking a client-centered approach throughout the entire litigation process.
The accolades Karin has received reflect her fearless, tireless, and successful career. It began in 2006 when Karin's advocacy skills won the "Best School Attorney Award" at the Stanford Invitational Mock Trial Competition. In 2012, the National Association of Criminal Defense Lawyer's renowned journal, The Champion, showcased Karin in an article "Gideon's Champions" for her compassionate defense, and strong, bold voice for the underprivileged. In 2016, Karin won the Team Lewis award, a peer nominated honor for ". . . the team whose courage, commitment, and countless selfless acts inspire us and remind us that when we stand together in our fight for the dignity and life of another, justice happens."
During law school, Karin worked under the tutelage of legendary civil rights and criminal defense attorney Bernard (Bernie) Segal; received training from the nationally recognized Office of the Public Defender in San Francisco, California; and worked abroad as a legal intern at Shubert Collin & Associates in Paris, France.
Education
J.D., Golden Gate University, 2007
B.A., University of California, San Diego, 2004
Bar Admissions
U. S. District Court, District of Colorado, 2018
State of Colorado, 2008
State of California, 2007
Memberships
Women's Bar Association
Colorado Defense Lawyers Association