Margrit Lent Parker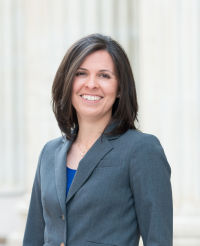 Special Counsel
Office: Denver
Email: mparker@childsmccune.com
Telephone: (303) 296-7300
From startup to ongoing business management, Margrit works with professionals and their companies to map ideas and put them in motion. Her litigation experience allows her to help clients understand why setting expectations early and staying proactive are critical to minimizing the risk of future conflict. Across several industries, Margrit works with her clients on contracting; employment contracts for physicians, veterinarians and others; company policies and employee handbooks; managing employee discipline and other employment matters; compliance; governance; health care credentialing and peer review; recreational liability waivers; equine boarding contracts; equine sales contracts; and other horse industry agreements. Margrit's  litigation and license defense work includes a focus on defense of professionals, including attorneys, physicians, veterinarians, and other licensed professionals; director and officer liability; and commercial disputes. Drawing on her appellate judicial clerkship experience, Margrit also represents the firm's clients in appeals.
Biography
Before entering private practice, Margrit Lent Parker served as a judicial law clerk for Chief Justice Mary Mullarkey of the Colorado Supreme Court, and as a judicial law clerk for federal Magistrate Judge William Beaman in Cheyenne, Wyoming. In law school, Margrit completed internships with Colorado Supreme Court Justice Allison Eid, the Denver U.S. Attorney's Office, and the Denver City Attorney's Office Litigation Section.
Margrit is a leader in the community, and her work was featured in the February 13, 2015 issue of the Denver Business Journal. Recipient of the Denver Bar Association's 2014 award for Young Lawyer of the Year. Margrit played an integral role in researching and developing what is now the Colorado Attorney Mentoring Program, which was developed through the Chief Justice Commission on Professional Development. From 2009-2011, Margrit was the Colorado and Wyoming District Representative to the American Bar Association Young Lawyers Division. In that role, and in the following years, Margrit formed and chaired a Colorado Bar Association committee tasked with renewing Colorado's disaster legal services plan for providing volunteer legal assistance to disaster victims. Margrit was part of the team that implemented the revived program during the state's 2012 wildfires and 2013 floods.
Prior to law school, Margrit completed a dual major in Zoology and Equine Science at Colorado State University, after which she worked at a Thoroughbred breeding farm and an equine veterinary hospital, both in Kentucky. Drawing on her horse and legal experience, Margrit has contributed articles and presentations to the Colorado Veterinary Medical Association and the American Veterinary Medical Law Association. Margrit also served on the Board of the Colorado Horse Council in 2015 and 2016, and has served on its Legislative and Regulatory Committee.
Leadership/Memberships
Colorado Bar Association CLE, Treasurer; Director, 2016-2019
Colorado Therapeutic Riding Center, Longmont, Director, 2016-present
Denver Bar Association, Trustee, 2015-2018
Colorado Bar Association, Board of Governors Representative for Denver County, 2012-2014, 2017-2019
Colorado Defense Lawyers Association
American Bar Association, member; 2015-2016 Chair of the Equine Law Subcommittee, TIPS Animal Law Committee; 2009-2011 Young Lawyers Division District Representative for Colorado and Wyoming, Young Lawyers Division; 2008-2009 Law Practice Management Section, Member Development Committee
American Horse Council, member
United States Eventing Association, Mountain States Eventing Association, member
Awards & Recognition
SuperLawyers Colorado Rising Stars, 2015-2017
Colorado Chief Justice Commission on Professional Development, 2011-2016
Young Lawyer of the Year, 2014, Denver Bar Association
COBALT graduate, 2013, Colorado Bar Association Leadership Training program
ALI-ABA Scholarship & Leadership Award, CU Law, 2008, presented to the graduating law student who best represents a combination of leadership and scholarship
CU Law Legal Aid and Defender Award, 2008
Notes & Comments Editor, Colorado Journal of International Environmental Law and Policy, 2007-2008
Presentations
The Importance of Contracts, Liability Releases, and Insurance for Horse Professionals, Certified Horsemanship Association International Conference, September 2018
Veterinary Employment Contracts, presented to recent veterinary school graduates, July 2017, January 2018
Equine Insurance, May 2016, 31st Annual National Conference on Equine Law, Lexington, Kentucky
Minimizing Your Risk of Claims Through Good Relationship Management, September 2015, Colorado Veterinary Medical Association, Annual Convention
2014 Legislative, Regulatory, and Ballot Issues in Colorado, November 2014, presented to horse industry leaders at a meeting hosted by the Colorado Horse Development Authority
Employer-Employee Relationships: Contracts and Handbooks, September 2014, presented to Colorado Veterinary Medical Association
Livestock and Animal Cruelty Prosecution in Colorado, July 2014, presented together with a panel of legal and veterinary practitioners and state officials, presented to American Veterinary Medical Law Association
Animal Valuation and the Law, for the American Veterinary Medical Association Legal Outreach Program, July 2014, presented to Colorado Bar Association Animal Law Committee
Presentation about leadership during the CBA flood legal relief program, March 2014, with Lance Timbreza, Esq. and Sharon Mohr, Esq., presented to COBALT (Colorado Bar Association Leadership Training Program)
Minimizing Liability for Employment Decisions: Legal Trends and Tips, September 2013, with Chris Brown and Kevin Perez, presented to Colorado Veterinary Medical Association
Judicial Clerkships Panel, University of Colorado Law School, October 2010
Representative Articles
Forthcoming: Karp & Parker, Recent Developments in Animal Tort and Insurance Law, Tort Trial & Ins. Prac. J. (2019)
Karp & Parker, 52-3 Recent Developments in Animal Tort and Insurance Law, Tort Trial & Ins. Prac. J. 227 (2018)
Karp & Parker, 51-2 Recent Developments in Animal Law, Tort Trial & Ins. Prac. J. 245 (2016) (authored Part II.G.-end)
Karp & Parker, 50-2 Recent Developments in Animal Law, Tort Trial & Ins. Prac. J. 179 (2015) (authored Part II.H.-end)
Parker, Colorado Horse Council, multiple articles for membership on current legislative issues (2014)
Fogg, Gabriel & Parker, The Mentoring Relationship: How to Make it Work and Why it Matters, The Colorado Lawyer, Vol. 42, No. 10 at 53 (Oct. 2013)