Julie Warren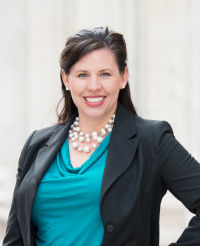 Managing Member
Office: Denver
Email: jwarren@childsmccune.com
Telephone: (303) 296-7300
Julie Warren represents businesses, business owners and professionals- doctors, lawyers, engineers, and architects in all facets of their legal needs. Specializing in trial work, Julie has a proven record for success in trying complex, multi-million dollar cases. Whether providing consultation, reaching a favorable settlement, or taking a case through jury trial, Julie understands that her client's professional reputation is always at stake. Julie combines an aggressive, strategic approach to all cases, with the personal attention her clients expect from a trusted advisor.
Julie Warren is recognized as a Super Lawyer for 2017 and has been recognized as such in 2016, 2015, 2014, 2013, 2012 and 2011, in the Colorado edition of 5280 Magazine's SuperLawyers. Julie Warren was named one of Colorado's Top Women in Law in 2015, by Law Week and the Denver Business Journal.
As a founding and managing member of Childs McCune LLC, Julie takes a leadership role in the management and vision of the firm. Julie is active in the legal profession serving as a member of the Colorado Bar Association's Professionalism Committee and frequently lectures to lawyers and law students about the importance of professionalism in the practice of law. As a founding member of Denver MAMA (Mother Attorneys Mentoring Association) Julie enjoys mentoring female attorneys seeking to balance family life and the demands of their career.
Memberships
Colorado Defense Lawyers Association
Colorado Bar Association
Denver Bar Association
Professionalism Committee of the Colorado and Denver Bar Associations
Founding Member of the Colorado Bar Associations Leadership Training Committee
Founding Member of Denver MAMA
Past Chair and Board Member, Colorado Young Lawyers Division
Past Executive Council Member, Colorado Bar Association
Past Board of Governors Member, Colorado Bar Association
Past Legislative Policy Committee Member, Colorado Bar Association
Past Co-Chair and Executive Committee Member, Barristers Benefit Ball
Inaugural Member of the Colorado Institute of Leadership Training – Governor appointed
Former Big Sister Mentor, Denver Kids, Inc. and ongoing supporter
Former Head Coach, University of Denver Cheer Team
Presentations and Speaking Engagements
"Practicing with Professionalism"
DBA-YLD Conference, Fall 2012
University of Denver, Law School, Fall 2012, 2011, 2010, 2009, & 2008
Boulder County Bench Bar Retreat, Spring 2010
University of Colorado, Law School, Fall 2010, 2009
Boulder County Bar Association, Fall 2009
CBA-YLD Conference, Fall 2008
Supreme Court, Clerks of the Court, Spring 2008
Court of Appeals, Clerks of the Court, Spring 2008
"Legal Liability in Competitive Athletics"
Colorado High School Activities Association Conference, Spring 2010 &2006
"Trends in Health Care Litigation- Mock Trial and Seminar"
Colorado Healthcare Associated Risk Managers, Summer 2010
"Medical Treatment Decision Making"
Colorado Healthcare Associated Risk Managers, Fall 2010
"The Tri-Partite Relationship"
Colorado Defense Lawyers Conference, Fall 2007 & 2006