Steven A. Michalek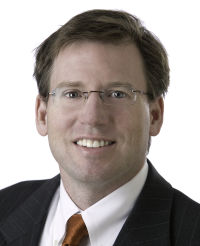 Managing Member
Office: Denver
Email: smichalek@childsmccune.com
Telephone: (303) 296-7300
Steve Michalek is an experienced trial lawyer who represents medical doctors, pharmacists, dentists and other professionals in malpractice, licensing board, credentialing and business matters. Steve has been trying cases for over 20 years and his success in the courtroom assists his clients in obtaining beneficial results before their cases go to trial.
For over 10 years Steve was on call for one of the firm's largest clients to provide risk management legal services to  physicians and medical facilities. This background allows Steve to provide valuable insight to his clients on how to put strategies in place to avoid or limit their exposure to litigation.
If a claim does arise, clients who have worked with Steve are in a much better position to defend the allegations that have been made against them. In trial, Steve has:
Represented a family practice physician related to the evaluation of a newborn who was subsequently diagnosed with herpes encephalitis. The plaintiff requested over 13 million dollars in damages during trial. The jury returned a defense verdict on all claims and the court awarded over $120,000 in costs to the defendant healthcare providers.
Represented an emergency medicine provider in a case involving an adverse reaction to anesthesia which resulted in a verdict in favor of the health care provider on all claims and an award of over $50,000 in costs against the plaintiff.
Obtained a defense verdict for an oral surgeon on all claims in a post operative infection case. The court awarded over $30,000 in costs incurred in defending the case.
Represented an orthopedic surgeon in a pulmonary embolism malpractice claim. The jury returned a verdict for the surgeon on all claims and the court awarded over $60,000 in costs related to the defenses of the case.
Represented a health care provider in a jury trial where the plaintiff alleged several million dollars in compensatory and punitive damages. The jury returned a verdict in favor of the defendant. The court awarded the defendant more than $50,000 in costs against the plaintiff.
Represented a physician in a jury trial where the plaintiff dismissed the case part way through trial due to the strength of the physician's defense.
Represented a medical provider in a medical board matter where the board sought probation and practice restrictions against the practitioner. The case was dismissed prior to the hearing with no adverse action taken against the client.
In addition to risk management and litigation, Steve also works on legislative issues affecting healthcare providers. Steve was on the Colorado Division of Regulatory Agency's task force to improve the licensing and disciplinary process for health care providers. Finally, Steve is a frequent speaker on medical records and healthcare liability issues. If you have a question about healthcare liability issues, Steve is the person to call.
Memberships
Denver Bar Association, Inter-professional Committee (2007-present) Committee Co-Chair, (2012-2014)
Colorado Bar Association, Board of Governors (2005-07) (2013-2014);
Colorado Bar Foundation, Fellow (2005-present)
American Bar Association, Health Law Section (2001-present); Medicine and Law Committee (2001-present)
Colorado Defense Lawyers Association, President (2003-2004); Executive Board (2000-2005)
Defense Research Institute, Medicine and Law Committee (2004-present)
International Association of Defense Counsel (IADC), Health Law Committee (2009-present)
Awards and Recognition
Colorado SuperLawyer in Medical Malpractice Defense Law, 2010-present
Best Lawyers in America, Medical Malpractice Defense Law, 2013-present
Catholic Lawyers Guild, St. Thomas Moore Award, 2008
DRI, Exceptional Performance Citation, 2004
AV Peer Review rated lawyer by Martindale-Hubbell
Teaching
Visiting professor at Masryk University, Faculty of Law, Fall, 2016. Taught American Health Law Course to Eastern European Law Students.
Community Involvement
Kids in Need of Dentistry (KIND), (President 2011-2014; Board of Trustees 2010-2015)
Catholic Lawyers Guild of Colorado (President, 2006-2007; Board Member, 2002-present; Individually organized benefit dinner for catholic charities, 2007-present)
Blessed Sacrament Church (Parish Council, 2000-2004; School's Building Committee, 2000-2001; Lector, 2000-present)
Holy Ghost Church (Homeless food line preparer and server, 1998-2000; Father Woody's Homeless Dinner Volunteer, 1999-2000)
Colorado Division of Registrations (DORA), Task Force on improving the disciplinary process for licensed health care professionals (2008-09)
Consultant to the Governor's Task Force on Health Care Reform, (2008)
Presentations
Social Media Risk Management for Health Care Providers, The Dentist Professional Liability Trust (2015)
Medical Claims Presentation, Colorado Medical Society (2015)
How to Avoid Malpractice Litigation, Colorado Academy of Pediatric Dentists (2015)
Medical Malpractice Trial Seminars, Copic Insurance Company (2014-present)
Legal Issues Related to ICAT Scans and Dental Implants, Endodontics of the Rockies Risk Management Program (2014)
Medical Records Law and Risk Management Issues, Lorman Educational Services, Denver, CO (2013)
Underwriting and Risk Management Program for Physicians, PIAA, Austin, TX (2012)
Denver Medical Society, How to Avoid Malpractice Litigation, Denver, CO (2011)
University of Colorado School of Law, Health Care Law Presentation, Boulder, CO (2011)
Regulatory Law Update for Health Care Providers, COPIC Risk Management and Patient Safety Forum, Denver, CO (2010)
Dental Risk Management Program for General Dentists, Denver, CO (2009)
Legal and Risk Management Issues for Medical Facilities, COPIC Risk Management and Patient Safety Forum, Denver, CO (2009)
Discovery Strategies Following Recent Colorado Supreme Court Decisions, CDLA, Steamboat Springs, CO (2009)
Medical Records Law in Colorado, Lorman Educational Services, Denver, CO (2008)
AAOIC Risk Management Mock Trial, AAO Annual Conference, Denver, CO (2008)
AAOIC Risk Management Program for new Orthodontists, AAO Annual Conference, Denver, CO (2008)
Medical Records Law, Lorman Educational Services, Colorado Springs, CO (2007)
Medical Records in Litigation, Copic Risk Management Program, Denver, CO (2007)
Restorative Dentistry Risk Management Presentation, The Dentist's Professional Liability Trust, Denver, CO (2006)
Medical Records in Litigation, Colorado Healthcare Association of Risk Managers, Denver, CO (2006)
Discovery in Litigation, Colorado Bar Association Continuing Legal Education, Denver, Colorado (2006)
Management of Medical Records in Colorado, Lorman Educational Services, Denver, Colorado (2006)
How to use the Alcon and Weil Decision to Your Client's Advantage, Colorado Defense Lawyer Association, Denver, Colorado (2006)
Medical Records in Litigation, Copic Risk Management Forum, Denver, CO (2005)
Debate on Tort Reform and Its Effect on Medical Litigation, University of Denver Law School (2005)
Colorado Bar Association, CLE, Taking Control of the ADR Process, Denver, Colorado (2004)
Copic Insurance Company: Risk Management Discussions and Presentations to Physicians (2001-Present)
Denver Health Medical Center: Presentations to Dental and Oral Surgery residents (2001-Present)
Dentist's Professional Liability Trust: Risk Management Seminars to Dentists (2001-Present)
Colorado Dental Association Mid-Winter Meeting: Risk Management Presentation to CDA dentists (2004)
Mile High Association of Legal Assistants: Professionalism Presentation (2003)